Welcome to Klimno on the island of Krk
Klimno is a charming village located on the island of Krk in Croatia, the largest island in the Adriatic Sea. Krk is known for its rich history, stunning landscapes, and vibrant culture. This picturesque coastal settlement is situated on the eastern coast of Krk, and offers a peaceful retreat for visitors.
One of the notable features of Klimno is its natural beauty. The village is nestled in a bay surrounded by lush greenery and rolling hills, creating a serene and idyllic atmosphere. The clear blue waters of the Adriatic Sea gently lap against the shores, providing a perfect setting for relaxation and enjoyment.
Klimno is particularly known for its healing mud. The village boasts a natural mud beach called "Soline," where visitors can indulge in therapeutic mud treatments. The mud in this area is rich in minerals and is believed to have beneficial effects on the skin and overall well-being. Many visitors come to Klimno specifically for the rejuvenating experience of applying the healing mud and then bathing in the sea to wash it off.
In addition to the mud beach, Klimno offers a range of outdoor activities for nature enthusiasts. The surrounding landscape is ideal for hiking and exploring, with numerous trails that lead to scenic viewpoints overlooking the Adriatic. The village is also home to several small, secluded beaches, perfect for those seeking a more private sunbathing experience.
The village itself is characterized by its traditional Mediterranean architecture, with charming stone houses lining narrow cobblestone streets. There are a few restaurants and cafes where visitors can savor local cuisine and enjoy panoramic views of the sea. The relaxed and friendly atmosphere makes it a delightful place to unwind and connect with the local culture.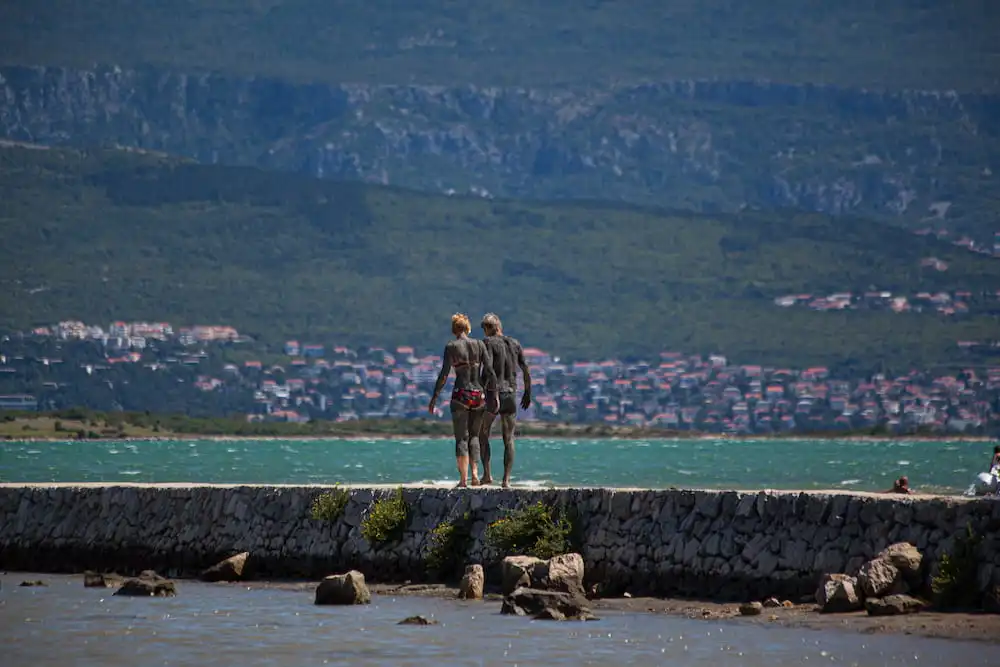 What to do in Klimno while on holiday?
Klimno offers a variety of activities, ensuring that visitors can enjoy a diverse and fulfilling holiday experience. Whether you're seeking relaxation on the beach, outdoor adventures, cultural exploration, or culinary delights, Klimno has something to offer for every type of traveler. Here's a guide to the possible activities and things to do while on holiday in Klimno:
Mud Therapy at Soline Beach: Start your holiday with a unique wellness experience at Soline Beach. Take advantage of the therapeutic mud, known for its mineral-rich properties. Apply the mud, let it dry in the sun, and then immerse yourself in the clear waters of the Adriatic to wash it off. This is not only rejuvenating for the skin but also a fun and memorable activity.
Beach Relaxation: Klimno boasts several beautiful beaches, each with its own charm. Spend lazy days soaking up the sun, swimming in the crystal-clear waters, and enjoying the peaceful surroundings. You can read more about the beaches below.
Water sports and underwater activities: The surrounding bay is rich in marine life, making it a great spot for snorkeling and diving. The waters are always calm which is ideal for stand-up paddleboarding and kayaking.
Hiking and Nature Exploration: Explore the scenic landscapes surrounding Klimno by taking advantage of the numerous hiking trails. Enjoy walks along the coast, through lush greenery, and up to panoramic viewpoints. Discover hidden coves and enjoy the fresh air while immersing yourself in the natural beauty of the island.
Visit the Impressive Historical Sights: Dive into the cultural heritage of Klimno. Explore the historical architecture, religious artwork, and the serene atmosphere of this centuries-old village. Read all about the important sights below.
Culinary Exploration: Indulge in the local flavors of Klimno by trying the authentic Croatian cuisine. Visit local restaurants to savor fresh seafood, olive oil, regional wines, and other traditional dishes. Culinary experiences are an essential part of any visit to Klimno.
Attend Local Events and Festivals: Check the local events calendar for festivals and cultural events taking place during your visit. These may include music performances, traditional dance, and gastronomic celebrations, providing a lively and immersive experience of the local culture.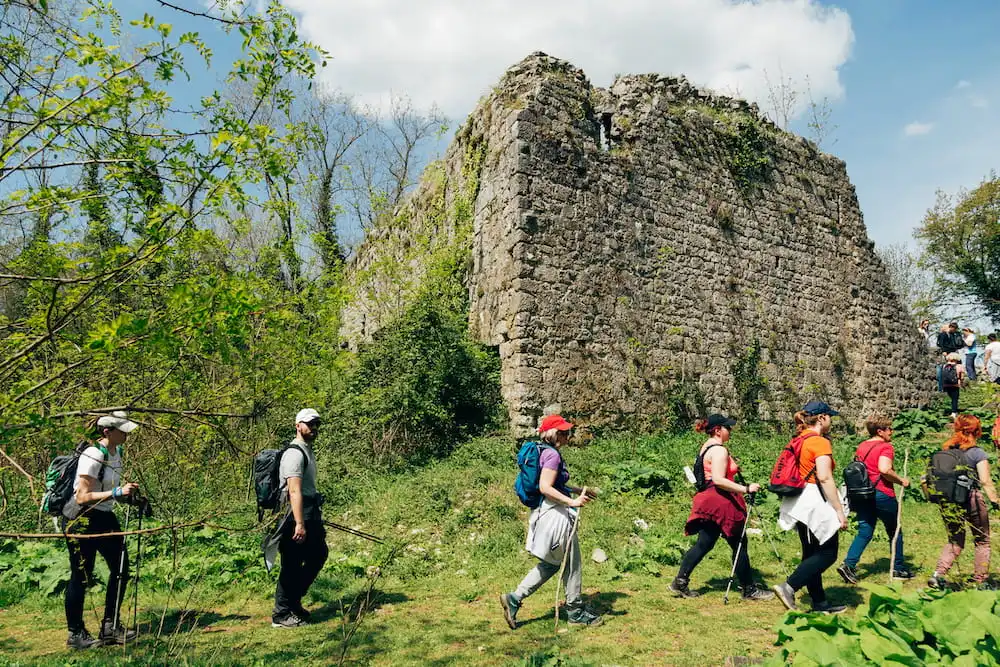 A holiday in Klimno on the island of Krk offers a perfect blend of relaxation, exploration, and cultural enrichment. Whether you're seeking wellness, outdoor adventures, historical discoveries, or culinary delights, Klimno provides a diverse range of activities to make your holiday a memorable and enjoyable experience.
Beaches in Klimno and the surrounding area
Klimno is renowned for its beautiful beaches that offer a perfect blend of natural tranquility and therapeutic experiences.
In addition to the specific beaches, the coastline is dotted with numerous coves and hidden spots waiting to be discovered. The entire region is characterized by its clean and well-maintained beaches, making it an ideal destination for those who appreciate both natural beauty and a variety of beach experiences.
Klimno beaches offer a diverse range of options. Whether you're looking for a therapeutic mud treatment, a family-friendly beach day, or a secluded retreat. Every visitor can find their perfect slice of coastal paradise.
Here's a closer look at some of the notable beaches in and around Klimno:
The most popular beaches
Soline Beach – The Mud Beach: Soline is perhaps the most famous beach in Klimno, known for its healing mud. Visitors flock to this unique destination to indulge in the therapeutic properties of the mud, which is rich in minerals. Applying the mud is believed to have beneficial effects on the skin and overall well-being. After letting the mud dry, bathers can take a refreshing dip in the crystal-clear waters of the Adriatic Sea.
Melina Beach – A Secluded Retreat: Melina Beach is a smaller, more secluded option for those seeking a quieter and more private beach experience. Surrounded by lush greenery and rocky formations, Melina offers a serene setting for sunbathing and swimming. The calm waters make it an ideal spot for relaxation, away from the busier tourist areas.
Klimno Bay Beach – Family-Friendly Atmosphere: The main beach in the bay is a family-friendly destination with shallow waters, making it suitable for children. The sandy shoreline is perfect for building sandcastles and enjoying a leisurely day by the sea. The bay provides a safe and inviting environment for swimming and water activities.
Cizici Beach – Scenic Surroundings: While not directly in Klimno, Cizici Beach is nearby and worth exploring. This pebble beach is known for its scenic surroundings, with clear waters and a charming seaside promenade. Visitors can enjoy a leisurely stroll along the coast and take in the breathtaking views of the Adriatic.
St. Clement's Beach – A Historical Setting: St. Clement's Beach is located near the Church of St. Clement in Klimno. The beach offers a unique blend of natural beauty and historical significance, making it an interesting place to explore. With the church as a backdrop, visitors can enjoy a day of sunbathing while appreciating the cultural heritage of the area.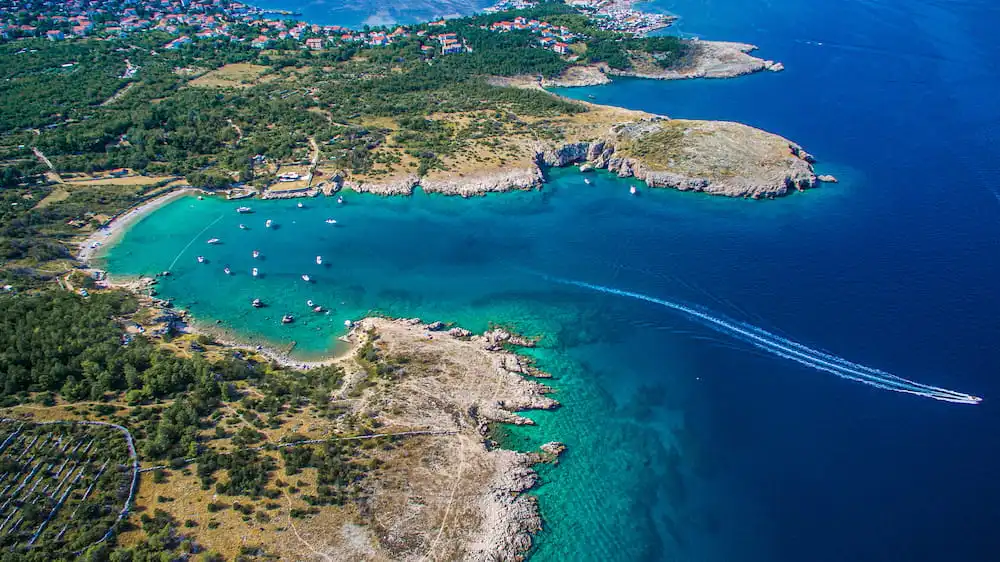 What to see in Klimno: Cultural Heritage and Important Sights
This lovely village boasts a rich cultural heritage and is home to several important sights and attractions that provide a glimpse into the region's history. Here's a guide to the cultural treasures and notable landmarks in and around Klimno:
Church of St. Clement: The Church of St. Clement stands as a significant historical and cultural landmark in Klimno. This well-preserved church dates back centuries and showcases traditional Mediterranean architecture. Visitors can explore the church's interior, adorned with religious artwork, and appreciate the tranquility of its surroundings.
Biserujka Cave: While not directly in Klimno but in close proximity, Biserujka Cave is a fascinating underground attraction. The cave features unique stalactite and stalagmite formations and has a rich geological and historical background. Guided tours are available for visitors interested in learning about the cave's formation and exploration history.
Klimno Castle: Klimno Castle, also known as the "Tower of Klimno," is a medieval fortress. It once played a role in defending the coastal areas. The castle offers panoramic views of the surrounding landscape and the Adriatic Sea. While the castle is not fully preserved, its remnants contribute to the historical charm of the village.
Soline Bay Salt Pans: The Soline Bay Salt Pans are a testament to the historical economic activities of the region. Salt production has been a traditional industry in the area for centuries. Visitors can take a stroll around the salt pans, learn about the salt harvesting process, and appreciate the cultural significance of this ancient practice.
Where to stay: accommodation in Klimno
For a complete and perfect holiday, you need comfortable accommodation in Klimno. We bring you a short list of lovely holiday apartments in the area surrounding Klimno to help your search:
Apartments Seafront Maris boast an incredible sea-front location, only several steps from the beach. House Maris has a total of 4 apartments. Two apartments are located on the ground floor and two on the 1st floor, each sleeps up to 5 persons. Each apartment offers beautiful views of the sea and the calming sounds of the waves. These apartments are exquisitely furnished and provide all the comfort you may need for a relaxing vacation.
Apartment Sweet Soline is located on the first floor of a residential building in the center of the village. This modern apartment is ideal for families with children. It has 60 m2 and can accommodate up to 4 guests. Besides all the modern amenities and free parking, it offers a lovely sea view of the bay.
Apartment Kristina is a pet-friendly apartment for 4 guests. This comfortable 2 bedroom apartment is located 3 km from Klimno, in a residential building near the town of Dobrinj. It is surrounded by beautiful lush vegetation in a peaceful and quiet location. Apartment Kristina has 47 m2, and provides all the modern amenities you might need during your vacation.
If you need help booking your accommodation in Klimno, feel free to contact us. And you can find more options if you visit our selection of accommodation on the island of Krk.
Conclusion
In summary, Klimno offers a blend of historical landmarks, natural wonders, and cultural events that allow visitors to immerse themselves in the rich heritage of the region. Whether exploring ancient churches, medieval castles, or participating in local festivities, Klimno provides a multifaceted cultural experience for those seeking to connect with Croatia's past and present.