Book your ideal accommodation on the island of Krk for a relaxing and fun vacation
If you dream of beautiful beaches and crystal clear sea, top quality food and drink, local products, enchanting historical and cultural sights that tell a long history, then consider the island of Krk your next vacation destination during the summer months. First of all you need to find the ideal accommodation on the island of Krk that will suit your lifestyle.
Excellent traffic connection and the vicinity of the island of Krk is just one of the reasons why Krk is an ideal destination for a shorter or longer stay during your vacation. Although last couple of years "last minute bookings" have been a massive trend, perhaps it would be better to prepare on time and have a carefree vacation, choose the accommodation of your liking and just count the days, hours and minutes until your arrival to the island of Krk and beginning of your well-deserved vacation.
This year, use your vacation on the island of Krk to rest your body and soul and recharge your batteries until next vacation. We can help with our offer of luxurious houses and apartments to everybody's liking. Regardless of whether you like houses with pools, apartments overlooking our beautiful Adriatic Sea or villas for a peaceful vacation with your family, in our offer, everyone will find a way to spoil themselves.
Apartments on the island of Krk
Accommodation facilities, in this case, apartments, among else, boast in excellent, peaceful locations, as well as perfect sea views. Contemporary equipped in beautiful villas and holiday homes, apartments offer all you need while exploring the beauty of our island. Renting an apartment is ideal for those who spend most of the time outdoors, couples, groups of friends, smaller families. Check out our rich offer of apartments and hopefully find the very one to suit you.
Villas and holiday homes on the island of Krk
Excellent selection of villas and holiday homes, from stone houses to contemporary, it is all at your disposal in our offer. Villas and holiday homes on the island of Krk, among else, pride in beautiful yards, peaceful locations, and many have beautiful sea views. Special attention has been given to decorating the gardens and yards so plenty of time can be spent in the fresh air, as well as enjoying additional services any time of day, for the whole family. Vicinity of the sea or a pool within the facility are one more reason why family get-togethers or spending time with friends in a holiday home are always the best choices.
Pet friendly holiday homes and apartments
We love animals! And for that very reason we know how much you cherish the possibility to spend your vacation with your favourite pet. That's why we bring you a list of accommodation where pets are welcome and where they will feel at home. If you choose island of Krk as the ideal destination for your vacation, your pet will get to enjoy all the adventures with you because the island of Krk is known as an idyllic tourist destination you can enjoy with your pets.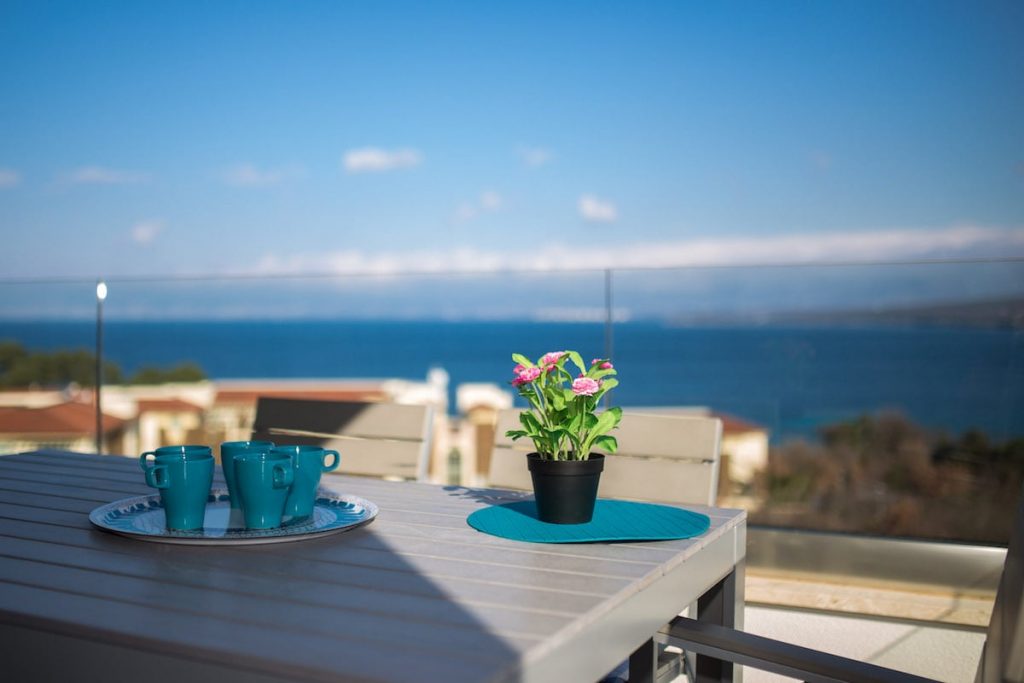 How to choose your ideal accommodation on the island of Krk by type of activity on vacation
With the spring coming and the temperatures rising, the island of Krk is becoming the target for all the lovers of crystal clear sea, rich history, the island life as well as the possibility to partake in different activities, performances, excursions and organized events. If you are one of those who would like to book accommodation in an apartment or a holiday home that suits your lifestyle, we bring you tips on how to choose the ideal accommodation on the island of Krk according to the type of activity.
A relaxing vacation on the island of Krk with an easy pace
If you would like to relax on your vacation from the everyday stress and rush and start a day with a coffee, enjoying in breakfast, for you it is definitely worth investing a few kuna more in choosing ideal accommodation. For what? Drinking coffee on the terrace with a perfect sea view, while the sound of the waves reaches your beautiful kitchen that invites you to the preparation of summer delicacies, it sounds really relaxing, right? You will probably spend more time in the apartment because of the slower pace, and it is therefore important to be much more comfortable, more enticing and with lots of content to feel relaxed and comfortable as well as at home.
Swimming, sunbathing and a little more of swimming on the island of Krk
For lovers of beautiful beaches and sunbathing while the sea makes perfect shiny blue shimmering color, the ideal apartment for you is of course the closest to the sea. Will you need to give more money for such accommodation? In most cases yes, however, with regard to the comfort and enjoyment that you receive in return, these apartments are invaluable. Just imagine that after breakfast you literally take a few steps and hold the sunscreen cream in the other hand and you are ready for a sea refreshment…
An active vacation on the island of Krk with minimum stay in the apartment
First you need to think about how much time you intend to spend in the apartment. If you plan to have breakfast in the morning and then return only in the evening, we recommend that you book a more modest apartment whose price will be affordable. Most prefer apartments with a sea view, but this greatly increases the price of the apartment. So if the first thing in the morning is to grab your backpack and go to the research till late in the night, maybe the view and interior fittings of the apartment should not be a crucial item.
Explore, choose and book your vacation on the island of Krk today!