Discover the beautiful village Glavotok on the Island of Krk
The Island of Krk, situated in the northern part of the Adriatic Sea, is one of Croatia's largest and most popular islands. Glavotok, a small and lesser know village on this island, is worth a special mention (and visit, of course).
Location & History

Glavotok is located on the western coast of the Island of Krk. This area boasts beautiful coastal landscapes, including rugged cliffs, pristine waters, and lush Mediterranean vegetation. The serene natural setting makes it a perfect spot for those looking to retreat from bustling tourist centers.

Like much of the Island of Krk, Glavotok has a rich history. The region has seen various rulers over the centuries, from the Romans to the Byzantines, and Venetians, which has left a mosaic of cultural influences on the island.
Attractions & Nature
Glavotok Monastery: Established in the 15th century, this Franciscan monastery is an architectural and historical treasure. Besides its religious significance, the complex also houses a museum that showcases religious artifacts, art, and exhibits related to the history of the region. The adjoining church of St. Mary has remarkable frescoes and paintings.

Beaches: The beaches near Glavotok, while not as expansive as some other locations on Krk, are unique. They are mostly rocky, which ensures clear waters and makes it a fantastic spot for snorkeling and diving. We will describe the beaches in detail below.

Protected Landscape: The forested area around Glavotok is a protected natural reserve due to its rich biodiversity. Visitors can explore the region's flora and fauna, using several trails that wind through the woods.

Lighthouses: There are some old lighthouses in the area which, apart from their primary function, offer an aesthetic touch to the scenic coastal view.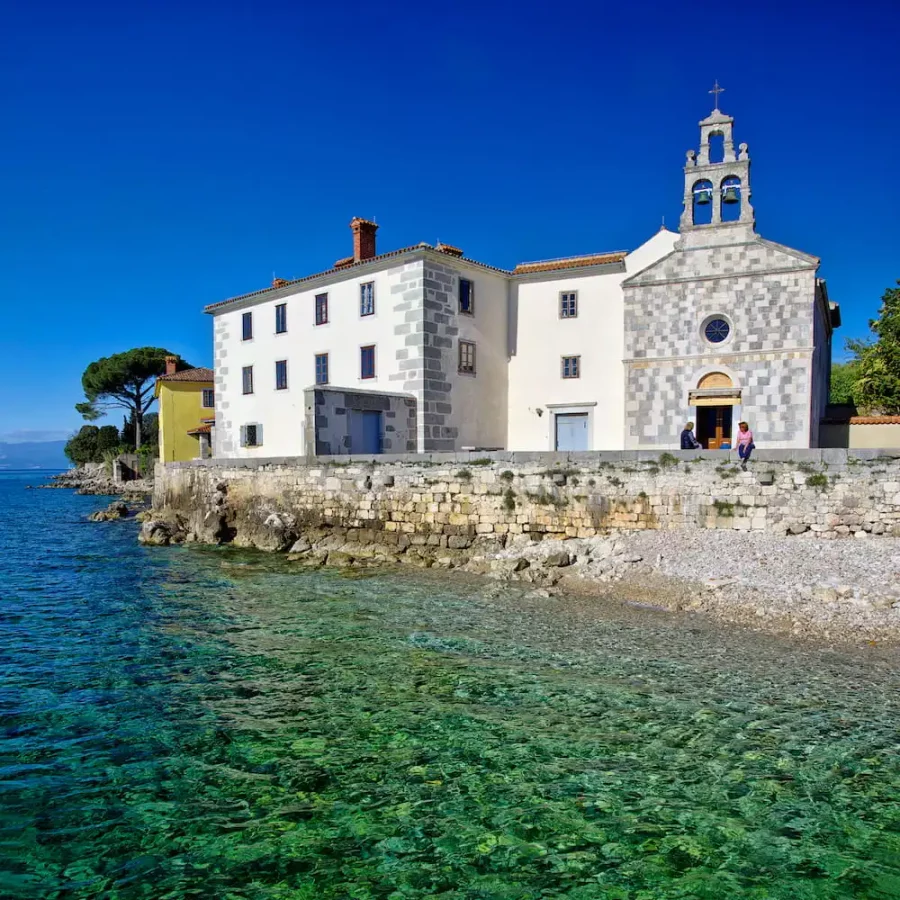 Beaches around Glavotok on the Island of Krk
The beaches around Glavotok are a blend of untouched beauty, clear Adriatic waters, and unique coastal formations:
1. Glavotok Beach:
Type: Predominantly rocky, with some pebbly stretches.
Features: Glavotok Beach offers clear waters, making it ideal for snorkeling and spotting diverse marine life. The natural shades provided by the pine trees make it a popular spot during peak summer months. The beach also has a view of a charming little chapel and lighthouse, providing a picturesque setting.
Facilities: A nearby campsite offers some amenities, including restaurants and cafes. There's also a small playground for children.
2. Sveti Fuškulin Beach:
Type: Pebble beach.
Features: Situated south of Glavotok, this beach is smaller and less crowded than its counterparts. It's surrounded by thick forests, giving it an isolated feel. The gentle slope of the seabed makes it suitable for families with kids.
Facilities: Being a relatively remote beach, facilities are limited. It's advisable to carry essentials, especially if planning to spend a full day.
3. Čavlena Beach:
Type: Rocky and pebbly.
Features: A bit to the north, Čavlena Beach is another hidden gem. Due to its rocky nature, the water here is incredibly clear, making it another favorite spot for snorkelers.
Facilities: Like Sveti Fuškulin, it's a quieter beach, so amenities are limited. However, its beauty makes up for the lack of facilities.
4. Valbiska Beach:
Type: Pebble and concrete slabs.
Features: Located north of Glavotok, Valbiska Beach is known for its ferry port that connects Krk to the nearby islands. The beach itself offers a mix of natural pebbles and concrete slabs, catering to different preferences. The proximity to the port means watching ferries come and go can be part of the beach experience.
Facilities: Given its location near the port, there are more facilities around, including cafes and restaurants.
Safety and Environment of the beaches

The beaches around Glavotok are generally safe for swimming. However, the rocky nature means one should exercise caution while entering or exiting the water. Water shoes are recommended. Additionally, these beaches are part of a pristine environment, so visitors are encouraged to maintain cleanliness and respect local guidelines.

The beaches around Glavotok offer a unique blend of natural beauty and tranquility. They're less commercialized compared to some other beaches on Krk, providing an authentic experience. Whether you're looking for a quiet spot to sunbathe, a clear sea to snorkel in, or just a beautiful coastal landscape to admire, the beaches around Glavotok have something for every beach lover.
Activities

Given its location by the sea, activities in this small village largely revolve around water. Snorkeling, diving, fishing, and sailing are popular. For those who prefer land-based activities, the nearby forests offer trekking and bird-watching opportunities.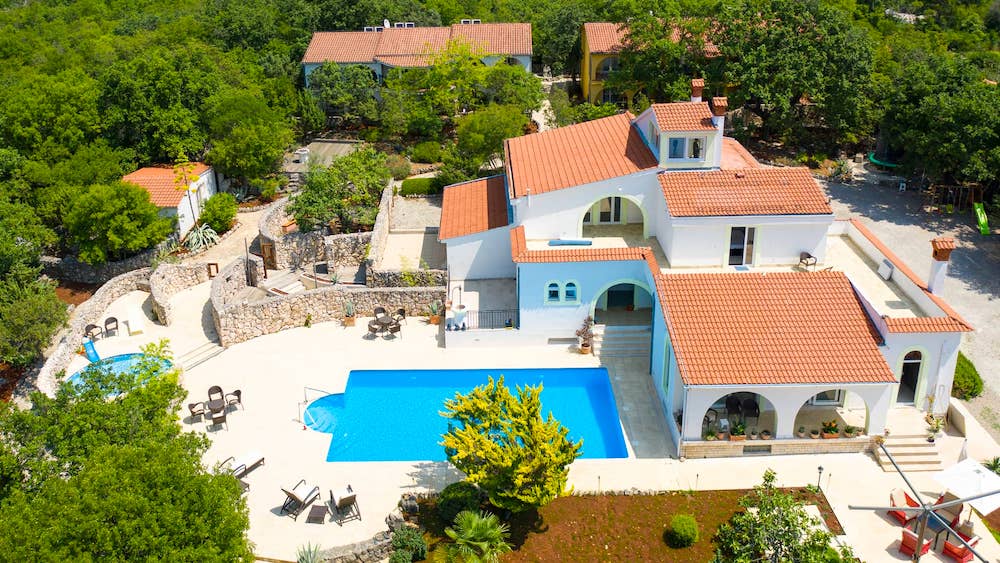 Accommodation near Glavotok

While Glavotok retains a tranquil, old-world charm, visitors can find several accommodation options ranging from campsites to apartments and guesthouses. There are also a few restaurants and cafes, though it's advisable to stock up on essentials if you're planning a longer stay.
Our recommendation of accommodation near Glavotok:
Villa Lidija is a luxury holiday home with a pool and sea view. It is located just 1.2 km from the center of Glavotok, in a peaceful, quiet and isolated location. Villa Lidija can accommodate up to 6 guests in 3 bedrooms, and 3 bathrooms. Its large terrace with a pool and barbecue offers great outdoor living. This lovely holiday villa offers maximum comfort for an unforgettable holiday in Glavotok on the island of Krk.
Apartment complex Lotus Resort provides accommodation in 12 apartments. Each apartment offers free WiFi, air conditioning and access to a garden with two outdoor shared swimming pools. This boutique resort is located in a peaceful area at the edge of the wood. The charming Makneli beach is only 800 meters away. The guests at Lotus Resort can also use a children's playground and a large terrace.
Getting There

Access to Krk Island is relatively straightforward because it is connected to the Croatian mainland by a bridge. From the main town of Krk or other major places on the island, one can reach Glavotok by car, taxi or local buses.
Conclusion

Glavotok is a haven for those seeking tranquility amidst natural beauty. While it doesn't have the buzz of some of the bigger destinations on Krk Island, it offers a genuine and peaceful experience. It is a must-visit for those in search of a more intimate encounter with Croatia's Adriatic charm.