Naturism on Krk – explore the island's nude beaches
First of all, let's clear out the facts.
Naturists are persons who prefer living without clothing, which means naturism is a lifestyle.
Nudists are persons who like being naked. They are considered to be less spiritual than naturists.
Naturists believe that life without clothing brings health benefits (physical and mental). They also beleive that harmony with nature contributes to stress relief, self-esteem, respect to others and attention to the environment. Because of naturism being a lifestyle, there are naturism camps and societies where people can go to stores and restaurants completely nude.
The island of Krk, located in the northern Adriatic Sea, is a stunning destination known for its picturesque landscapes, crystal-clear waters, and rich history that dates back centuries. One unique aspect that sets Krk apart from the other islands in Croatia is its collection of enchanting nude beaches.
Nude beaches on the island of Krk offer visitors an opportunity to embrace their natural state, unwind, and enjoy the freedom of being one with nature. These beaches, nestled along the island's scenic coastline, provide a tranquil and accepting environment for those seeking a liberating experience. It's worth mentioning that while these beaches are designated as clothing-optional, they promote a culture of respect and acceptance. Nudity is a personal choice, and visitors are expected to adhere to common courtesy and etiquette. The beaches are open to people of all ages, backgrounds, and walks of life, fostering a welcoming atmosphere that celebrates body positivity and self-expression.
On the island of Krk there are two naturism camps, Bunculuka near Baška and Konobe near Punat.
Naturism camp Bunculuka
One popular nude beach on Krk is Bunculuka, located near the town of Baška. Bunculuka offers a secluded cove surrounded by lush vegetation and magnificent cliffs, creating an idyllic backdrop for sunbathing and swimming in the Adriatic Sea. The beach is well-maintained, with comfortable sunbeds, parasols, and even a charming beach bar where visitors can indulge in refreshing drinks and light snacks.
It is located in a peaceful location in the middle of a forest but not far from the center of Baška. It is famous for its beautiful pebbly beach and numerous facilities. There are also numerous sport courts and it offers various animation programmes for children and adults. It's a real little Mediterranean oasis in which you can enjoy carelessly in crystal clear sea, light breeze and the singing of the birds.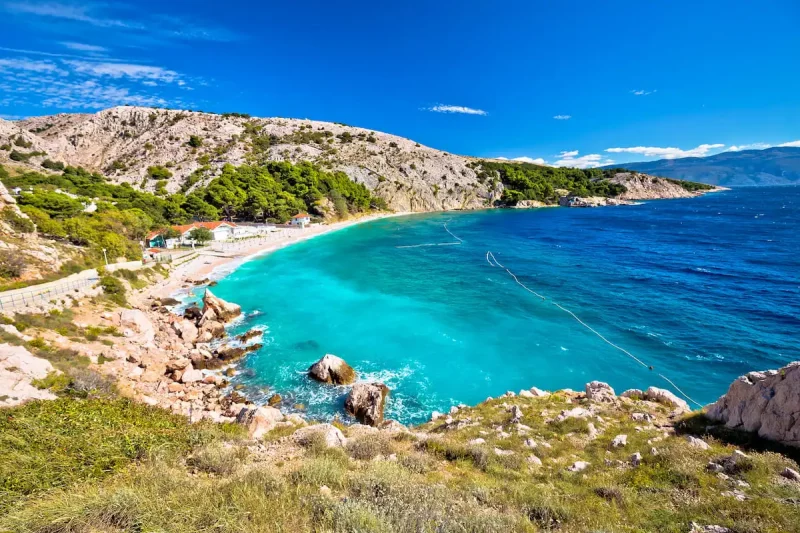 Naturism beach and camp Konobe
The camp is 3 km away from the town of Punat, on the west side of the island. It exudes scents of the Mediterranean, peace and ecologically preserved scenery with unique views. The biggest beach in the camp proudly flies a Blue flag. The coast stretching from the camp all the way to Stara Baška is a zone of the most beautiful beaches on the island of Krk. This is the Area of Special State Concern due to its unique natural white beaches, unusual cliffs and specific scenery. It's a paradise for people who wish to enjoy in harmony with nature.
Nudist beaches on the island of Krk that we can also mention
Official nudist beach Tomaževo, Krk – pebbly/concrete beach with the view of the sea and the old town of Krk. It is located in camp Camping Krk (former Politin), two kilometers south of the town of Krk.
Nudist wild beach Njivice – located in camp Njivice in Njivice. It is five kilometres long and you can enjoy on about 10 pebbly beaches.
Naturism beach Rajska plaža in Malinska – an unofficial nudist beach. It is called Rajska (heavenly) because it

'

s situated along with Rajski put (Heaven Road), a famous hiking trail on the island. The beach is mostly rocky with pebbly areas.
There are more unofficial nudist beaches in Omišalj, Dražice and Punat. If naturism is your way of life, you will definitely find a beautiful beach to enjoy in harmony with nature on the island of Krk. Diverse flora and fauna, clear and clean sea and loads of beaches – ideal conditions for human and nature to become one.

Nudist life on the island of Krk
Beyond the nude beaches, the island of Krk has plenty more to offer. Explore the charming coastal towns and villages, sample delicious Mediterranean cuisine, visit historic landmarks such as Krk Cathedral. You can also take part in various outdoor activities like hiking, biking, or sailing. Krk is a destination that combines the pleasures of naturism with a wealth of other attractions, ensuring a well-rounded and memorable experience for every visitor. In addition to the breathtaking beauty and liberating atmosphere, nude beaches on Krk offer the opportunity to connect with like-minded individuals who share a passion for naturism. Many visitors enjoy the sense of community and camaraderie that emerges in these serene settings. You can make new friends and sharing experiences in a non-judgmental environment.
So, whether you are a seasoned naturist or simply curious about embracing the freedom of a nude beach, the island of Krk in Croatia beckons with its pristine coastlines, breathtaking scenery, and an accepting atmosphere that allows you to truly be yourself. Visit Krk's nude beaches and discover a unique blend of natural beauty, relaxation, and personal liberation that will leave a lasting impression on your soul.
If you need accommodation on the island of Krk, be sure to browse through our selection of apartments, rooms and holiday homes at the best prices on the market.