Soline – a hidden gem on the Island of Krk in Croatia
The Croatian coastline is punctuated by more than a thousand islands. It is a haven for those who find solace in the azure waters of the Adriatic Sea. Among these islands, Krk, the largest and most accessible, hides many gems waiting to be explored. One such gem, often overlooked by the majority of tourists, is the tranquil bay of Soline.
History and Heritage
Soline, located on the northeastern coast of Krk, has a history that dates back thousands of years. Ancient Roman artifacts have been found in the vicinity. It suggests that this serene locale was once bustling with trade and cultural exchange. Ruins of ancient salt pans are visible even today, bearing witness to the time when salt production was a thriving industry here.
In fact, the very name "Soline" derives from the Latin word "salina" meaning salt pan. For centuries, salt was not just a valuable trading commodity, but it also played a pivotal role in food preservation. That is way it was crucial for the settlements of the region.
Natural Beauty
Beyond its historical significance, Soline entices visitors with its sheer natural beauty. The bay is shielded from the open sea, resulting in calm waters that glisten under the Mediterranean sun. The gradation of blue, from the shallow edges to the deeper center, creates a mesmerizing contrast with the golden sands and the green foliage that surrounds the bay.
Soline is also renowned for its therapeutic mud, a natural phenomenon that has attracted health and wellness enthusiasts for years. The mud, rich in minerals, is believed to alleviate various skin conditions and rheumatic diseases. Every year, locals and tourists alike immerse themselves in this therapeutic mud, not just for its health benefits, but also for the sheer joy of a unique seaside experience.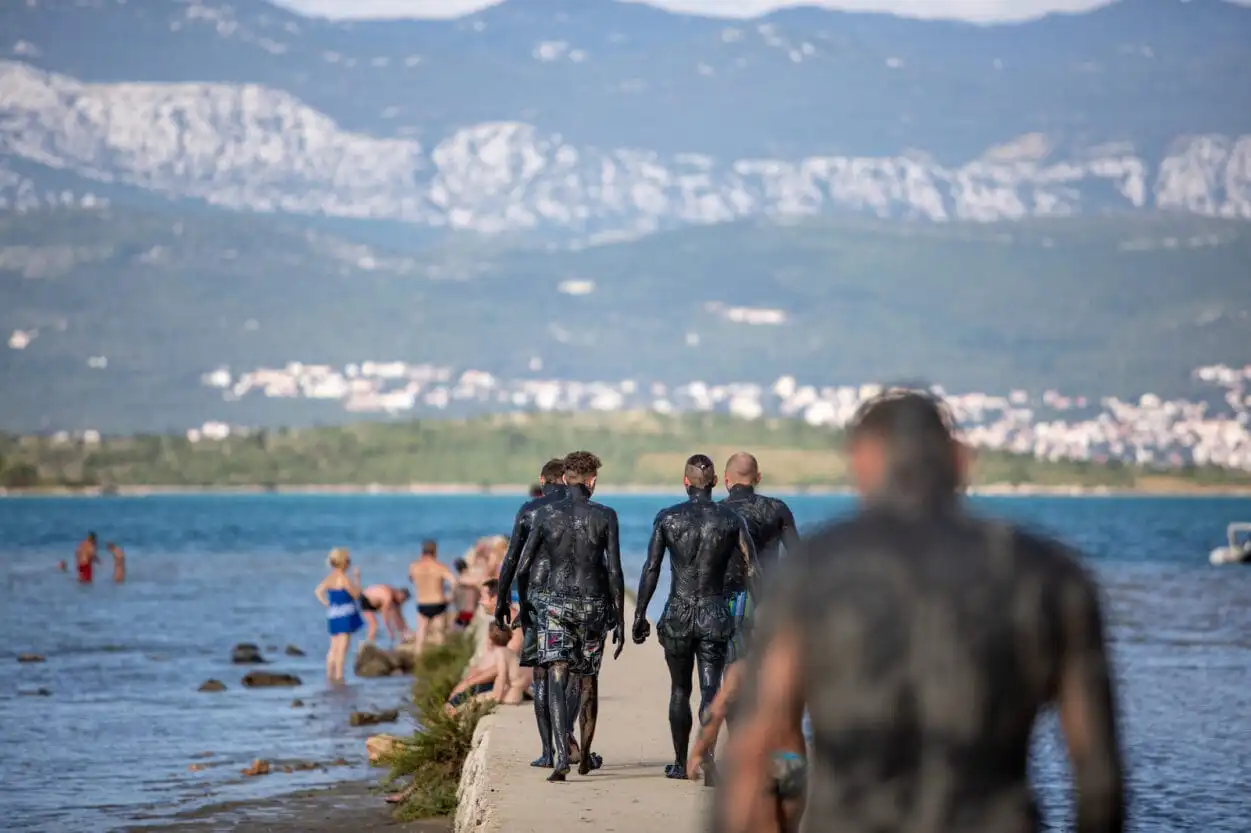 Beaches of Soline Bay
The beaches of Soline Bay are characterized by their pebbly shores, clear turquoise waters, and the verdant pine forests that often provide a fragrant backdrop. Here's a snapshot of some of the key beaches in the bay:
Meline Beach: Perhaps the most unique feature of Soline Bay is the healing mud of Meline Beach. Known for its therapeutic properties, the mud is said to treat various skin ailments and rheumatic diseases. Many visitors apply the mud to their skin, allowing it to dry under the sun before rinsing off in the sea. Meline isn't just about mud baths, though. Its shallow waters make it an ideal spot for families with children.

Cizici Beach: Located near the village of Cizici, this beach is popular for its accessibility, gentle incline into the sea, and mesmerizing sunsets. The promenade, lined with cafes and eateries, offers visitors a chance to indulge in local delicacies after a refreshing dip in the sea.

Klimno Beach: This is a family-friendly beach known for its calm waters. It is perfect for beginners in water sports or those who just wish to float and relax. The nearby restaurants provide a diverse gastronomic experience, from fresh seafood to traditional Croatian dishes.

Local Life and Culture
While many coastal regions of Croatia have seen rapid commercial development, Soline has managed to retain its local charm. The bay is dotted with small villages like Klimno, Čižići, and Soline itself, where life moves at its own leisurely pace. Traditional stone houses, terracotta roofs, and narrow alleys dominate the architectural landscape, offering visitors a glimpse of authentic Croatian island life.
The local cuisine is an added attraction. Being a coastal region, seafood is a staple, with dishes prepared using age-old recipes that have been passed down through generations. Olive oil, produced from the groves that abound in the region, adds a distinct flavor to the dishes. Pair a seafood delicacy with a glass of locally produced wine, and you have a gastronomic experience that speaks to all the senses.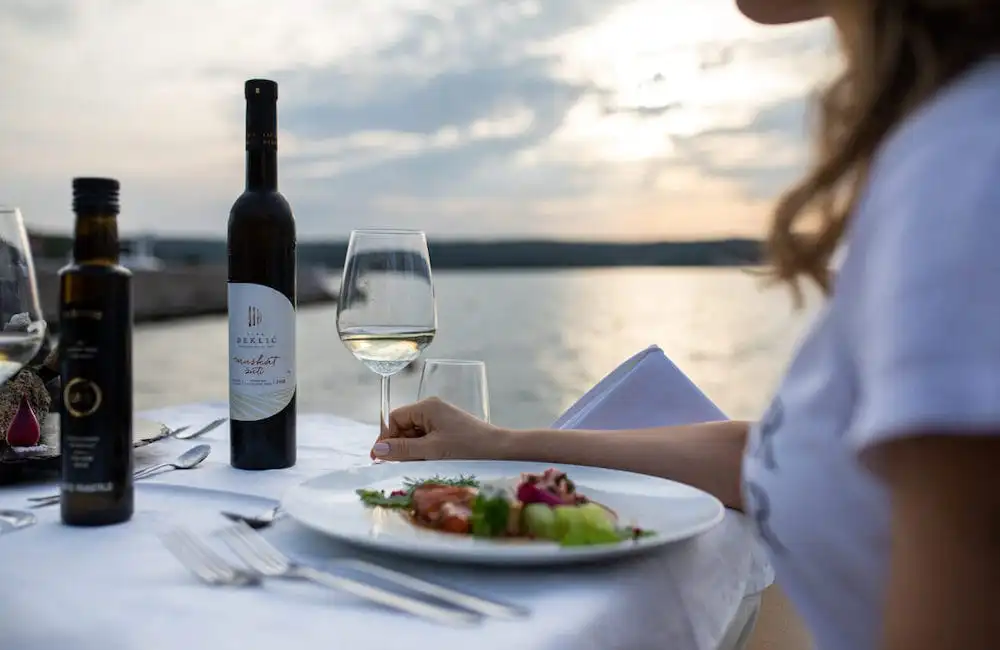 Recreation and Activities
For those keen on exploring beyond the tranquil shores, the bay of Soline has much to offer. The underwater world is teeming with marine life, making it a hotspot for snorkeling and diving enthusiasts. The calm waters are also ideal for kayaking and stand-up paddleboarding.
On land, hiking trails wind their way through the olive groves and offer panoramic views of the bay and the surrounding landscapes. For the more adventurous, there are cycling routes that traverse challenging terrains, providing both a workout and a feast for the eyes.
While in Soline you might also want to visit the nearby Cave Biserujka, Krk Island's Subterranean Marvel. It is situated on the northern part of the Island of Krk, 5 km from Soline. Cave Biserujka stands as a testament to the island's rich geological tapestry. A popular tourist attraction, Biserujka beckons with its intriguing formations and mysterious allure.
Upon descending into the cave, visitors are greeted by a plethora of stalactites and stalagmites, intricately shaped by the hands of time. The play of light and shadow on these formations creates a surreal atmosphere, making it easy to understand why local legends often speak of hidden treasures and mythical creatures residing within.
The cave's relatively compact in size. It spans around 110 meters in length, ensuring a comfortable exploration even for those new to caving. Properly laid paths and ambient lighting ensure that the cave's beauty can be appreciated safely.
Beyond its natural splendor, Biserujka offers a glimpse into the island's folklore. Some legends claim the cave to be the hiding place of a pirate's treasure, adding a layer of intrigue to an already captivating visit.
Whether you're a nature enthusiast, a lover of legends, or simply seeking a cool retreat from the summer sun, Cave Biserujka promises an enchanting journey beneath Krk's surface.
Where to stay while in Soline?
To make your holiday in Soline a complete and memorable experience, you need comfortable accommodation, your home away from home. To help you in this search, we bring you a short list of lovely holiday apartments in Soline:
Apartments Seafront Maris have an incredible location, just a few steps from the beach. House Maris has a total of 4 apartments, two on the ground floor and two on the 1st floor, each for up to 5 persons. Here you can enjoy in the beautiful view of the sea and the calming sounds of the waves. These apartments in Soline are elegantly furnished and offer all the comfort guests need for a relaxing vacation.
Apartment Sweet Soline is located in the center of the village on the first floor of a residential building. This modern apartment of 60 m2 sleeps up to 4 guests and is ideal for families with children. Besides free parking and all the modern amenities, it offers a lovely sea view od Soline Bay.
Apartment Kristina is a comfortable 2 bedroom pet-friendly apartment for 4 guests. It is located in a residential building near the town of Dobrinj, 2 km from Soline. The location is peaceful and quiet, surrounded by beautiful lush vegetation. In its 47 m2, this apartment offers all the modern amenities you might need during your vacation.
If you need help booking your accommodation, do not hesitate to contact us. And for more accommodation options visit our selection of accommodation on the island of Krk.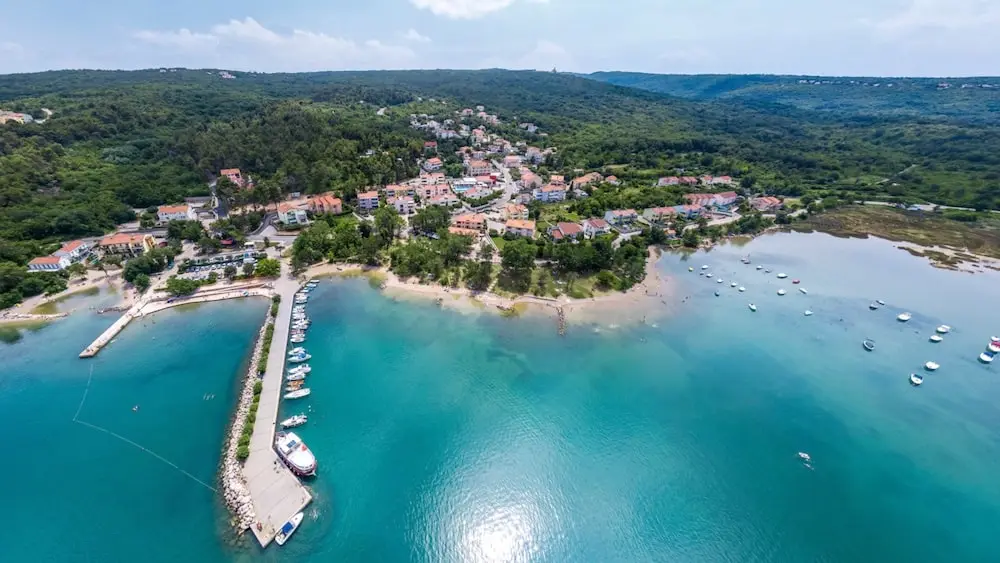 Conclusion
In a world that's constantly speeding up, places like Soline on the island of Krk remind us of the joy of slowing down. Whether it's the history, the natural beauty, the local culture, or the recreational activities, Soline offers something for everyone. And while its serene ambiance might be its most immediate allure, its true charm lies in its ability to connect the past, present, and nature in one harmonious experience.
So, the next time you find yourself on the shores of Croatia, venture beyond the popular tourist hubs. Let the enchanting bay of Soline weave its magic around you.