Tips for a perfect holiday with your dog on Krk Island in Croatia
The island of Krk is one of the most popular tourist destinations in Croatia, and with good reason. Its crystal-clear waters, ancient towns, and beautiful landscapes make it a favorite for travelers. And, the best part is, it's also very much dog-friendly!
For the best and complete relaxation on your vacation, the most important thing is to have the whole family together. It goes without saying that that includes the family member with the biggest heart, your dog.
In the recent years numerous hosts started to pay attention to the market needs and the needs of their guests. That meant adapting their accommodation as well as their offer and services to being "PET-FRIENDLY". Thanks to well-equipped dog-friendly apartments and holiday homes, finding accommodation for your Krk holiday with a dog has never been easier. If you choose the island of Krk as your ideal holiday location, you need not worry whether your dog will be able to enjoy it together with you.
You have a great selection of holiday homes and apartments that accept dogs to choose from. There are also numerous attractions and activities that you can enjoy with your furry friend, as well as restaurants. And, of course numerous dog beaches on which your best friend can run along, swim and play. In this article you can find all the information you need to enjoy your Krk holiday with a dog.
Dog-friendly accommodation: holiday homes and apartments for your Krk holiday with a dog
There is a great offer of holiday homes and apartments for your Island Krk holiday with a dog. Some have a pool and big gardens, and some are walking distance from the beach. Here are some great options:
Holiday House Little precious: A cosy house in Sveti Ivan, Malinska-Dubašnica on two floors with living room, kitchen, bedroom, bathroom, terrace and parking. A traditional interior design with new appliances will make your stay comfortable. The terrace is furnished with a large table and chairs, and there is a barbecue in the garden. This dog-friendly holiday home in Malinska offers also free parking in the front of the house.
Apartment with a pool Agava: This two-story dog-friendly apartment in Kremenići has a living area of 65 sqm. It is fully equipped for 4 to 6 people and is located in a private house. The house is in a quiet area, surrounded by lush Mediterranean vegetation. It is only 15 minutes from the center of Malinska and the beach. The pool is shared by only two apartments and is located in the front yard, equipped with a garden shower.
Apartment Sunset view: This cozy, stylish one-bedroom apartment from which you can enjoy beautiful sunset and sea views is located in Njivice. It is on the first floor of a private house and provides the comfort of a well-equipped kitchen with a dining area, living-room corner, double-bed bedroom, and bathroom. There is a spacious terrace where guests can take a moment to chill, sip coffee or simply enjoy the serene view. Parking space is also provided.
Apartment Olive garden: A modern and spacious dog-friendly apartment in Njivice for a maximum of six guests. It is located in a quiet area, on the ground floor of a private house. It offers views of the lush-green olive garden in front of the apartment and the coolness of its shadows in the hot summer days. The apartment has a fully equipped kitchen, a dining and living area, one double bedroom, one bedroom with two single beds, and a bathroom. Guests can use the outside grill and the parking space is provided free of charge.
You can also find other great options on our Accommodation page and use the detailed filter and map to find exactly what you need.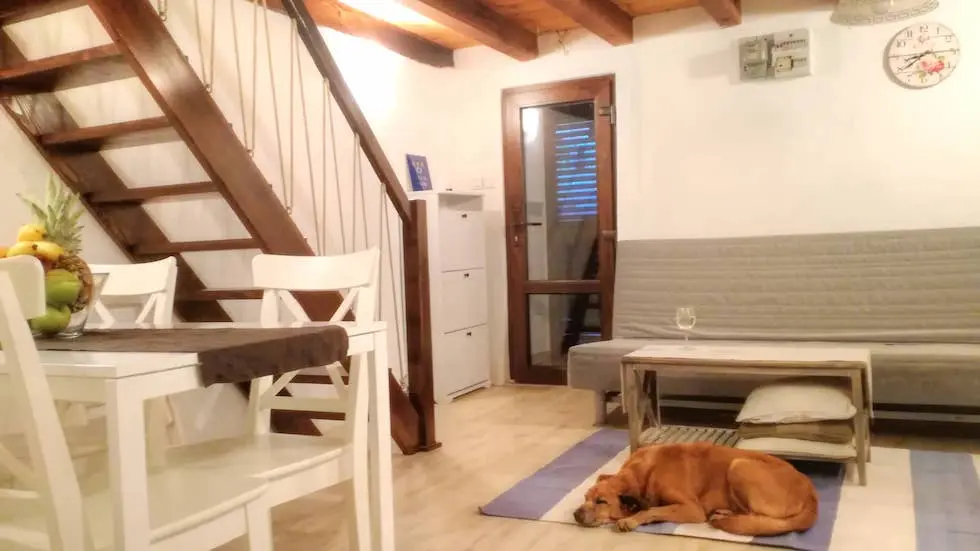 Traveling to the island of Krk with a Dog
By Car: Ensure that your dog is secure in a travel crate or with a dog seat belt. Plan for regular breaks so your dog can stretch, relieve itself, and hydrate.
By airplane: Some airline companies allow dogs, but they might need to be leashed and muzzled or kept in a carrier. Check the specific airline company's regulations.
Documentation: Ensure that your dog has its pet passport, is microchipped, and has had all necessary vaccinations, especially the rabies vaccination.
Dog beaches on the island of Krk
As we stated before, Krk Island, a jewel in the Adriatic Sea, is not only renowned for its historical charm, delicious cuisine, and stunning landscapes but also for its dog-friendly attitude. If you're planning to vacation with a dog on Krk, you'll be pleased to discover several beaches that welcome dogs. Here's a closer look:
Redagara Beach in Baška: Located near the renowned Vela Beach in Baška, Redagara Beach is a picturesque pebble beach. There is a designated dog area where your furry friend can play freely. The clear blue waters are a treat for both dogs and their owners. There's ample shade available, making it a perfect spot to relax with your pet on sunny days.
Porporela Beach in Krk Town: While smaller in size, Porporela Beach is conveniently located close to Krk Town's center. This pebble beach offers pristine waters, and there's a special section where dogs are permitted. It's a great spot for tourists staying nearby who wish to have a quick beach getaway with their pets.
Punta Debij Beach in Njivice: Njivice is another beautiful location on Krk Island and boasts the Punta Debij Beach. It's a serene location with dense Mediterranean vegetation offering ample shade. The dog-friendly section ensures your pet can splash around while you enjoy the view.
Dunat Beach: Situated between Krk Town and Punat, Dunat Beach has a designated dog area. Its fine pebbles and tranquil ambiance make it a favorite among pet owners.
Mala javna Beach in Vrbnik: A small and charming secluded pebble dog beach close to the center of Vrbnik.
Tips for Visiting Dog-Friendly Beaches on Krk
Respect Other Visitors: Always supervise your dog to ensure they don't disturb other visitors.
Clean Up: Always have waste bags on hand and clean up after your pet to maintain the beach's cleanliness.
Fresh Water: Remember to bring fresh water for your dog, especially during hot summer days to keep them hydrated.
Shade and Rest: Ensure your pet has access to shade and make sure they rest if they seem tired or overheated.
Local Rules: Each beach might have specific rules or designated dog areas. Always adhere to posted signs and guidelines.
Dining Out during your Krk holiday with a dog
While many restaurants in Krk have outdoor terraces where dogs might be welcome, always ask before settling down. Here are a few that are dog-friendly:
Konoba Nono: Located in Krk Town, this traditional tavern offers outdoor seating where your furry friend can join you.
Bistro Bukarica: This spot in Baška has a relaxed atmosphere and allows dogs in their outdoor seating area.
While in a restaurant, always keep your dog leashed, and bring a portable water bowl to keep them hydrated.
Activities for you and your dog while on Krk
Walking: Krk offers numerous walking trails with breathtaking views of the Adriatic Sea. Popular ones include paths near Baška or Krk Town. Remember to carry water for both you and your dog.
Boat Trips: Some boat tours might allow dogs. It's a great way to see the surrounding islands. Always confirm beforehand.
Sightseeing: Visit the historical Krk Town with its medieval walls, Romanesque churches, and Frankopan Castle. While some sites may not permit dogs inside, you can still stroll around and appreciate the architecture.
Essential Tips
Civilized behavior and rules of conduct are expected from pet owners and pets. The pets should play nice with other dogs and obey their owner, and if necessary they should wear a muzzle. We must not forget that the owners have the biggest part in keeping track of their pet's behavior. Here are some important tips:
Hydration: The Croatian summer can be hot, so always ensure you and your dog have access to fresh water.
Local Vets: Familiarize yourself with the nearest veterinary clinic in case of emergencies. One in Krk is Veterinary Station Krk.
Respect: Always pick up after your dog and dispose of waste properly. Keep the environment clean, beautiful and be an example for other visitors and guests. Keep your dog leashed, especially in busy areas or where there are other animals. Do not forget that public dog beaches are intended for a wide population, which means you are sharing the space with others.
Rest: Ensure your dog gets enough rest, especially after long outings or play sessions on the beach.
Always keep an eye on your dog and don't let it go far and always be considerate to others
Enjoy with your family, enjoy with your dog and always give them unconditional love just like they have been giving you from the first day!
Local Regulations
Croatia has rules regarding dog breeds considered aggressive and potentially dangerous. Ensure you familiarize yourself with these rules if you have a larger or specific breed.
Dogs are expected to be leashed in public areas, especially in towns and villages. Muzzling might be required for specific breeds or larger dogs. Check local regulations.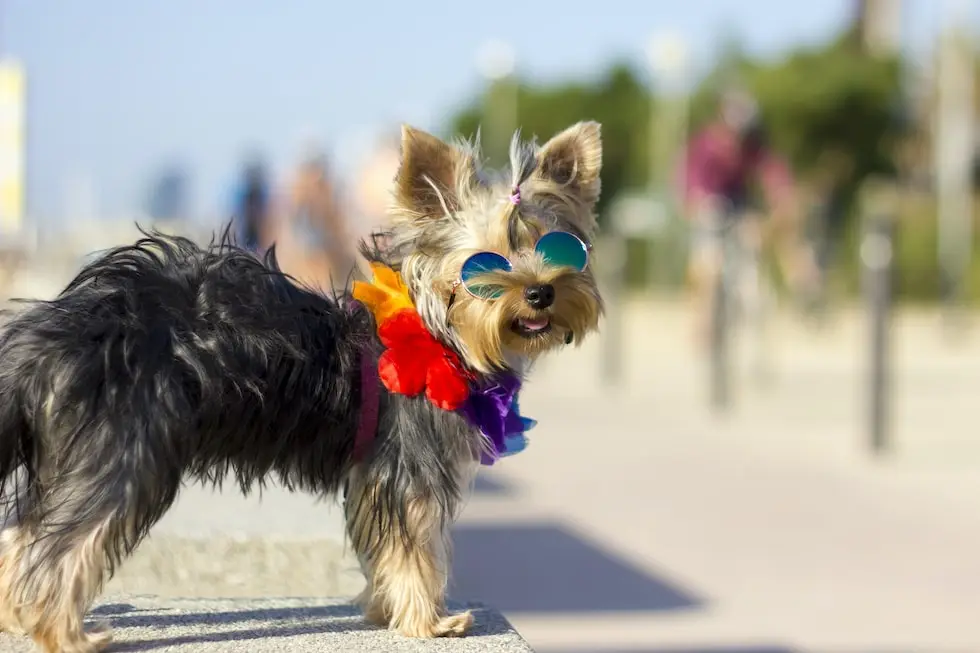 Packing Checklist
Dog food and treats.
Portable water bowl.
Leash, collar, and harness.
Dog toys for entertainment.
Travel crate or dog seatbelt if traveling by car.
Dog waste bags and a dispenser.
Dog-friendly sunscreen and insect repellent (yes, they exist!).
First-aid kit, including any medication your dog may need.
Conclusion
Krk Island in Croatia offers a refreshing mix of natural beauty, historical sites, and relaxing beaches. With some planning, it can be a memorable destination for both you and your canine companion. Embrace the island's charm, respect local rules, and enjoy an unparalleled experience during your Krk vacation with a dog.